Each session at A Growing Place Montessori School contains the following elements:
Community time – Children sit together for group singing, sharing something special, and counting the calendar. We may also demonstrate a new material or role play kind and courteous interactions.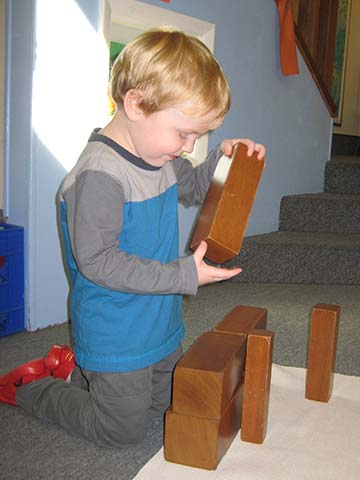 Work time – This is the prime part of the day. Each child chooses a work that has been shown from the materials on the shelf. The child can choose to work alone, with a friend, or participate in a small group. The child may also choose to look at a book, watch the fish or another child at work, or rest on a rug. Some children have reserved work that progresses over several class sessions.
Snack – Our classroom is earth friendly. We use real plates and glasses, we compost crumbs, and we eat simple, healthy foods. The option to have snack is an individual choice during the work time.
Story – Each day a guide reads a book to the whole group. Children are asked to comment on the book or answer a question about the story. This builds the child's comprehension and thinking skills.
Outdoors – We spend time outdoors each day. We may play in the play yard or nearby park, or we may explore the neighborhood on a walk. Observation of nature, care of our surroundings, and large muscle activities are included in our outdoor time.
End of Session – We close each session as a group by reading name cards or playing a short game. Each child receives a hug or handshake to say good-bye.