A Growing Place Montessori follows a traditional school year: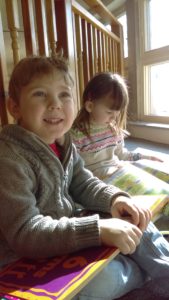 We are open September – May (Labor Day – Memorial Day).  We are closed during the summer.
Sessions are held Monday – Friday.
A Growing Place offers two options for our educational sessions:
The Morning Session takes place from 9:00 AM – Noon.
The Full-Day Session lasts from 9:00 AM – 3:30 PM.
An optional Early Start Session from 8:00 – 9:00 AM is also available.
Part-time enrollment, or a customized schedule, may be possible.  
The morning and afternoon periods of our day each contain the same elements: primarily time spent outdoors, in community, and at work.  Keep in mind that A Growing Place Montessori School is not a day care program: there is no diaper changing facility, and there is no formal nap time.
Because the full-day session requires a child to sustain energy through many activities, admission requires special permission from the Director.  Children attending the full-day bring a healthy lunch from home to eat.
To inquire about current openings, e-mail the Director at [email protected]