A Growing Place Montessori School Is Open for In-Person Learning!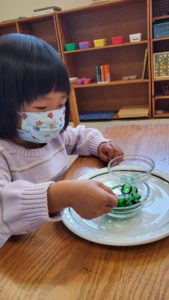 A Growing Place Montessori School believes that hands-on experiences are critical for early childhood development.  Our school continues to serve the social, emotional, intellectual, and spiritual needs of young children during the global coronavirus pandemic.  We follow local, regional, and national guidelines to provide a consistent, high-quality education for our students.
The safety of our students, our families, and our staff is the top priority of A Growing Place Montessori School.  To take care of our health, our school has implemented a variety of precautions, including:
Reduced class size
Social distancing practices
Increased sanitation procedures
Mask wearing for everyone
With these careful measures in place, A Growing Place Montessori School has successfully navigated the 2020-2021 school year with zero cases of the virus spread in our classroom.  We are proud to have given our children the joy and purpose of a Montessori experience in our protected school setting.
A Growing Place Montessori School regularly monitors the status of the pandemic.  We are opening the 2021-2022 year with the same precautions that supported our last year of learning.  Join us!
Questions? E-mail the Director at info@agrowingplacestl.org