We suggest the following steps as a way to get to know us, our program, and our classroom: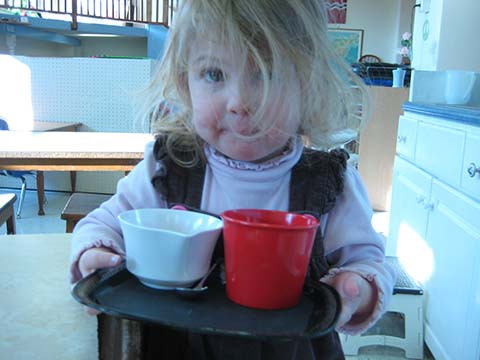 Personal School Tours are given during the school day, either at 10:30 A.M. or 2:00 P.M., and last about 30 minutes.  The Director will introduce you to the classroom and tell you a bit about our Montessori style.  You will then have time to observe the children at work, and the Director will answer your questions.  So that parents can be fully present for the experience, we ask that they take the tour without their children.
Schedule your tour today! E-mail us at info@agrowingplacestl.org

Student Visit  After your Personal School Tour, it will be your child's turn to visit A Growing Place.  Your little one will come during a school session to see our space, greet the children, and meet the guides.  We will also demonstrate a material for your child, who will get to take a turn doing the work.  These short and sweet Student Visits last about 15 minutes.
Application  A Growing Place Montessori School employs a rolling admissions process.  We begin accepting applications one year prior to your child's starting date.  For us to hold a space for your child in the classroom, you will submit a simple application form and an enrollment fee.
Phasing In & Orientation  Little visits to our classroom help young children become familiar with us. In May, we invite our incoming students for another individual visit during our class session. At the beginning of the school year, our Phasing In days gently transition the children into our school pattern through several small, shortened class sessions.